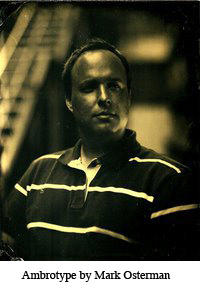 "Chasing light or sometimes hiding from it"
I am a tutor and image maker based in the South Wales valleys. I oversee the Ba Photojournalism course at the University of South Wales in Cardiff.
I'd also recommend you check out the work of our other tutors on the course.
As well as digital image making I also have an interest in "alternate processes": wet plate collodion, cyanotype, pinhole, salt prints & gum bi-chromate.
I've been at the university since September 2008, previously I taught for eleven years at Birmingham city university. During that time I ran the PgCert element of the Ma Visual communication course and then moved over to the Ba visual communication course to oversee the second year.
During my time at BCU I taught motion design, interactive media, film, photography, graphics and animation. All of which now comes into play with the way photojournalist's have to work.
I have also worked in the areas of interactive design and technical departmental management.
Ma Graphic Communication (Distinction)
Senior Fellow of the Higher Education academy
PgCert in Education (SEDA accredited course)
Ba Film & Photography (2:1)
Fine art foundation (Distinction)